Journées de la SF2A 2017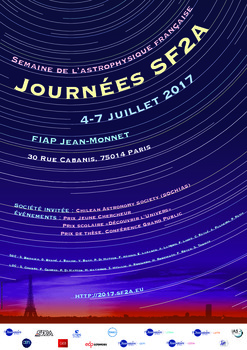 Welcome to the website of the Journées 2017 of the French Society of Astronomy & Astrophysics (SF2A).
The "SF2A week" will be held from July 4th to 7th in Paris (FIAP).
the guest society is the Chilean society SOCHIAS.
Mornings will be dedicated to the plenary sessions (scientific reviews, foresight presentations, GA ...) while the afternoons will be dedicated to workshops organised by the national programs (PN) and specific actions (AS) of CNRS/INSU.
Important deadlines
May 15th : early-fees
May 15th : grants for participation of distant post-docs
June 1st: abstract submission
June 25th: e-poster upload