Practical Information
Events
Events planned include:
Welcoming cocktail on Tuesday the 14th
Outreach conference in French on Wednesday the 15th (MAMAC museum)
Thursday: Cocktail and buffet, followed by the prize ceremony (young researcher and thesis) at the historical Mt Gros site in Nice, and ending with a concert by The Wathermelons, a rock band based at the Observatory. The LOC organises a bus service to reach the observatory. Buses will leave the conference site at 6.30pm, from the bus stop Vauban / Université, rue de Roquebillière. They will go down at 10.30 pm, 11.30 pm and 12:30am. Registration for the different buses will be done on the conference site
Place and date
Date : 14th - 17th May 2019
Place : Pôle Universitaire Saint-Jean d'Angély, 24 avenue des Diables Bleus, 06300 NICE, near the Tramway Stop Saint-Jean d'Angély Université (Line T1, Henri Sappia / Pont Michel)
Map
Campus maps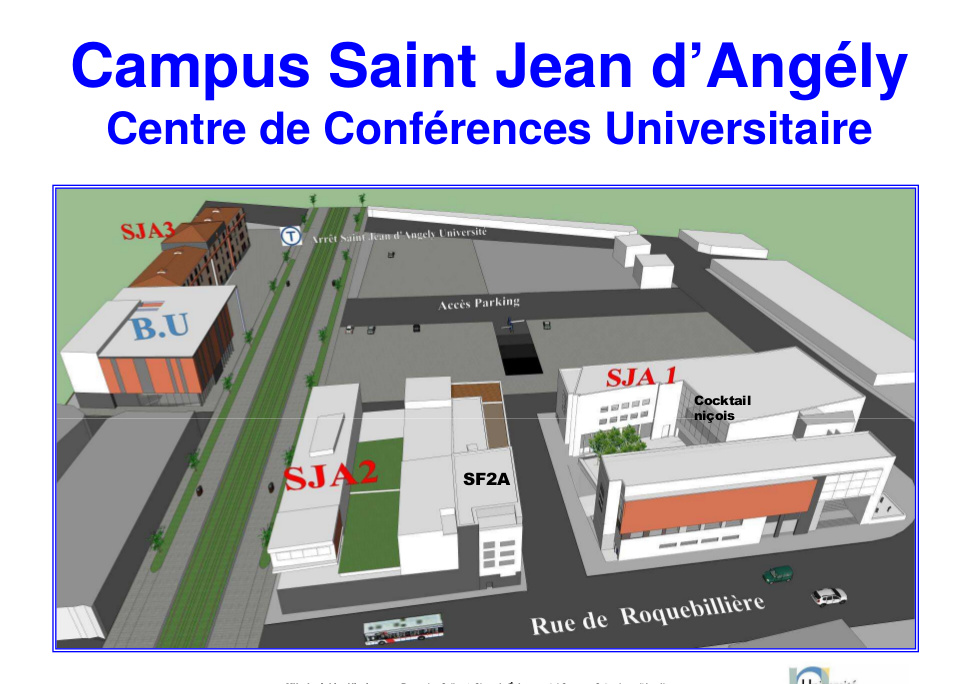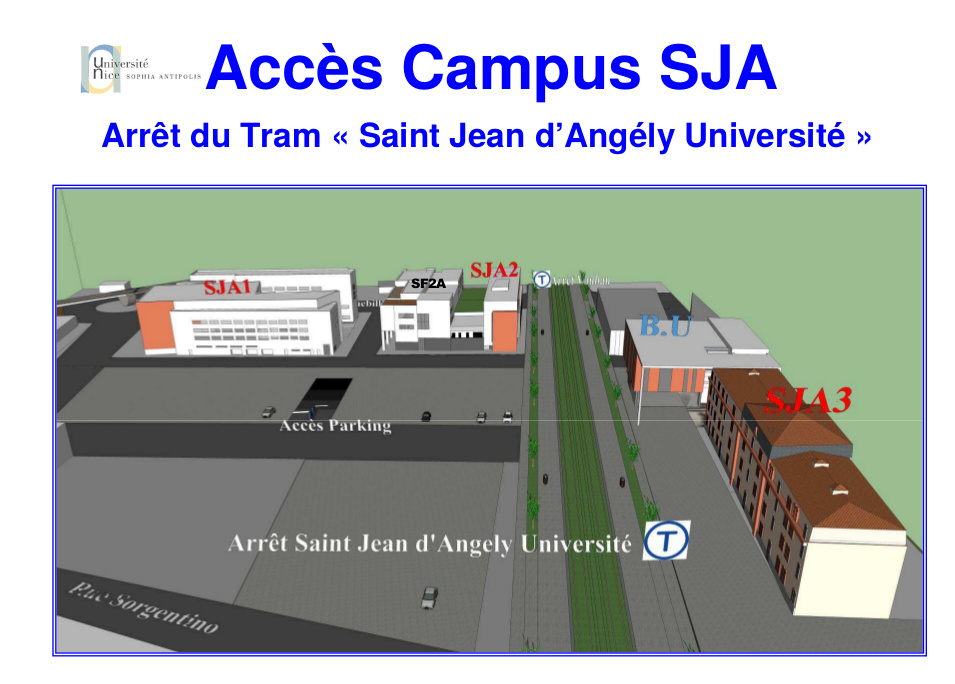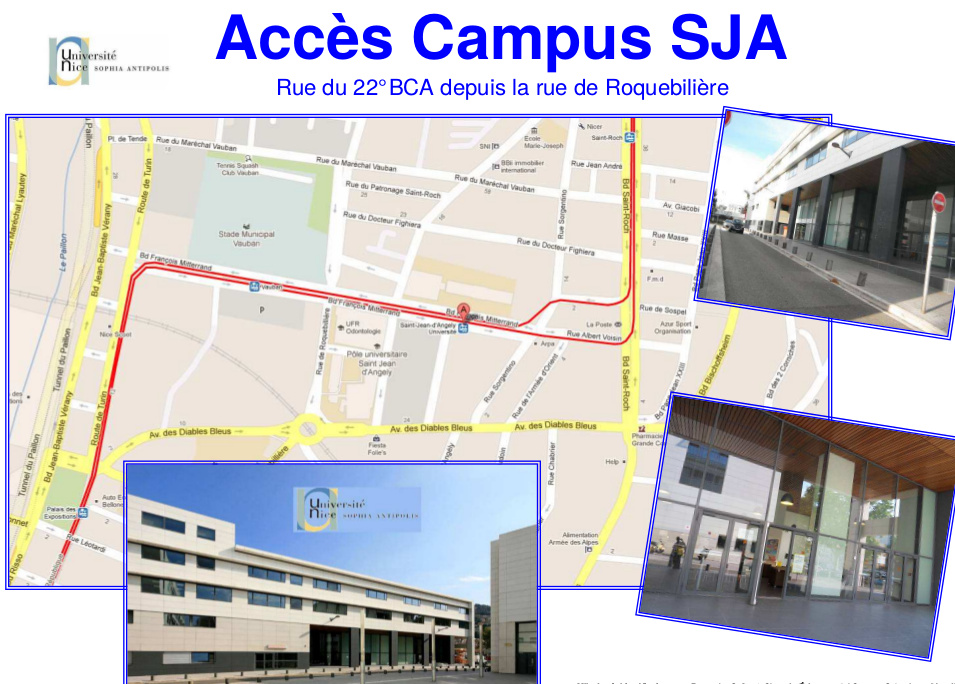 Restaurants for lunch
Cafeteria du CROUS at the conference venue, WIFI, (coffee, sandwiches, cold meals, salads etc)
University's restaurant at the conference venue, opposite building. Very cheap for students (show your student's card), cheap for others. CAUTION: Payment by card only, no cash.
L'Ange Bleu, 17 avenue des Diables Bleus, distance ~130m, (take away)
Eden Cafe, 21 avenue des diables bleus, distance ~200m, (set menus from 8.80 euros to 17 euros)
Snack Cafe d'angely, 24 avenue des diables Bleus, distance ~240m, WIFI, (a range of affordable meals)
There are several more cafes and restaurants located in the neighbourhood around the Campus, in particular between the tram stops Palais des Expositions (500m) and Garibaldi, and around place Saint Roch (600m).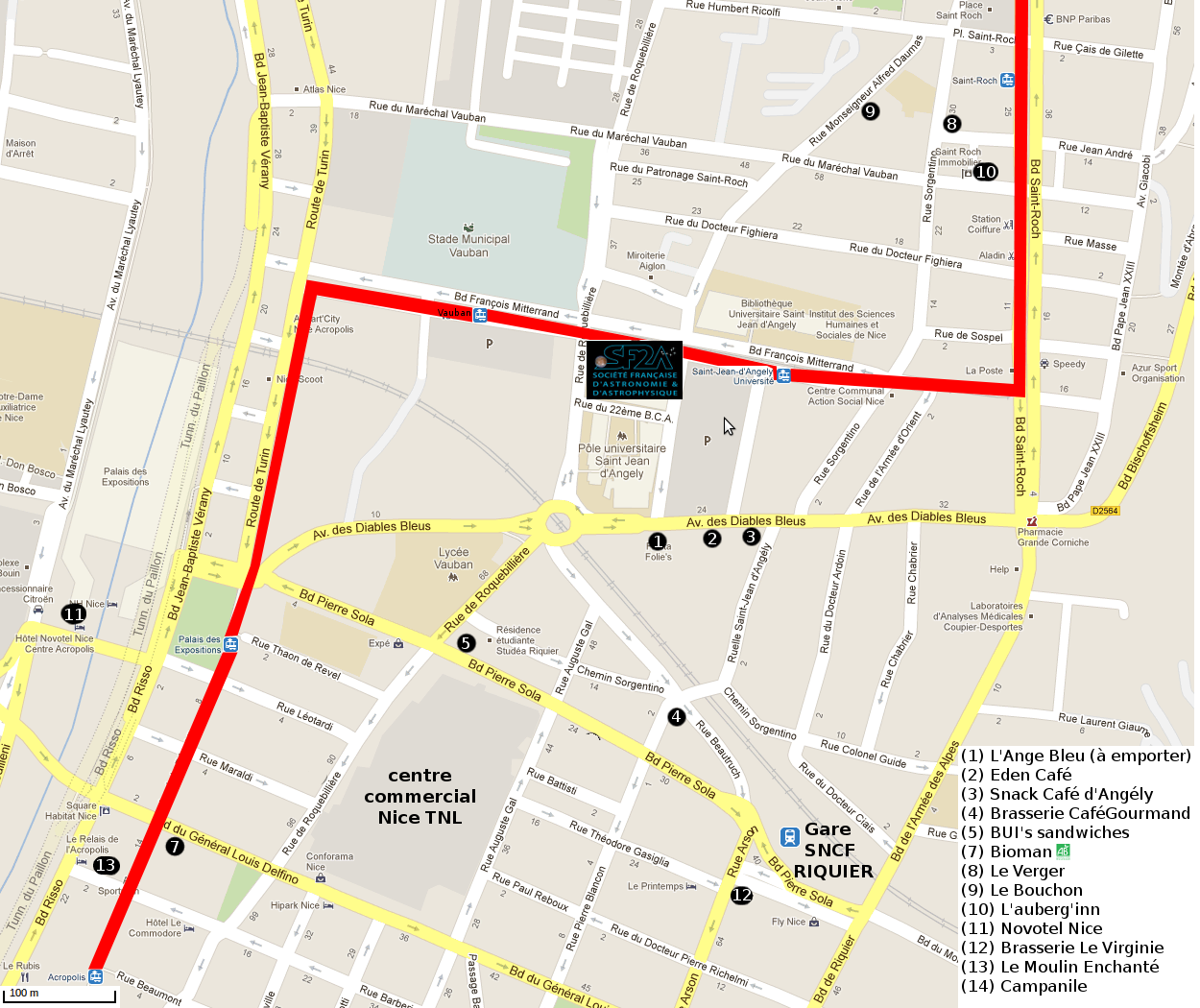 Leaving Nice
To reach the main trian station (Nice Ville) from the camus, just take the tramway line L1 towards Henri Sappia and get off at Gare Thiers (20 minutes + 350 mètres à pied).
To reach the airport, the easiest to take the bus 27 from the bus station Vauban next to the campus, and get off at the stop lycée Massena (10 minutes), then take from here the bus 98 which terminates at the airport (8€) (~30 minutes, more at rush hour). Other possibility : take the bus 99 from the Nice Ville station. Or reach the lycée Massena bus stop by getting off the tram at Cathédrale Vieille Ville, or by walking (22 minutes).
Useful links :
time table bus 27
(~3 per hour) ;
time table bus 98
(~4 per hour) ;
Lignes d'Azur network
.
Posters
We have received a very large number of proposals for posters. However, due to limited space being available, we ask you to strictly limit the size of your poster to A1 format oriented in landscape (i.e. height: 59.4 cm and width: 84.1 cm). Posters larger than A1 size will be hung only if space is available. Posters are available online here.
Internet Connection
Wifi internet will be available throughout the conference venue
.
Tourism
Information on things to do in and around Nice can be found at the Office of Tourism for Nice Cote d'Azur website or on the Riviera Cote d'Azur website. Suggestions for restaurants in Nice can be found here, suggestions for bars and pubs here, and nightlife in Nice here.
Information on the buses and trams in Nice can be found at the Nice Transport website

Our recommendations
Walk the old town, from Garibaldi square to the sea, enjoy one (or more) of the hundred ice cream tastes at Fennocchio, place Rossetti.
Climb the "colline du château" (castle hill), where there is no more castle, but a few archeological remains, a nice parc, a waterfall, and an amazing view over the port, the city, the sea, the mountains, and the Observatory.
Take a walk (or a run!) on the "Promenade des anglais" along the sea, have a break in one of the iconic blue chairs, have a look at the majestic facades of the Palais de la Méditerrannée and the Negresco palace, find and use the sundial on Raupa Capeu, and why not a swimm from the pebbles beach?
Take the train at Riquier station towards Monaco and get off at the very next station (2 minutes ride): Villefranche-sur-Mer is a charming old village at the end of a bay with a (gross) sand beach and fortifications from the XVIth century.
The Cannes film festival starts this week too ! And the cinéma de la plage plays classic movies on a big screen in open air for free...
Where to have diner / a drink ?
There are many restaurants and bars in the old town, in particular around place Rossetti or cours Saleya. We can quote, for good food at a decent price:
René Socca and Lou Pilha Leva: niçoise cuisine niçoise, to order at the desk and then enjoy on large tables to share, or to take away.
Le Gesu: the assiette niçoise as a starter, and the home made gnocchis with gorgonzola sauce are just delicious.
Le Bar du Coin: excellent, huge, and thin pizzas. Our favorites.
La cave du fromager: cheese based dishes, served in a vaulted basement with good wine.
Le Banthaï: little and good thaï restaurant.
Chez Pippo: the best socca of Nice (with other specialties).
L'atelier du Port
Les Amoureux: authentic Naples pizzas
O'Quotidien: a good organic restaurant, with vegetarian menus.
In terms of bars:
Beer District: 16 original beers on tap, nice atmosphere.
Le Ketje: a local bar with live music. Tuesday: open scene. Friday: concert (funk).
Les Distilleries Idéales: pleasant atmosphere with a remarkable decoration.
Coming to Nice
Think of your carbon footprint, travel by train!
You will be comfortably seated and will have time to finish your presentation. Furthermore, the last part of the trip, from Fréjus to Nice, offers beautiful landscapes by the sea.

Examples of trips for the 13th of May
By train
By plane
From
time
CO2 emissions
time
CO2 emission
Paris
15h07 - 21h07
3,3 kg
19h00 - 20h25
71 kg
London
10h24 - 21h07
7,5 kg
18h30 - 21h35
100 kg
Brussels
12h37 - 21h04
5,5 kg
18h25 - 21h05
90 kg
Lyons
18h06 - 22h41
1,8 kg
20h15 - 21h10
32 kg
Strasbourg
13h47 - 22h41
3,3 kg
16h00 - 17h25
84 kg
Lille
13h13 - 21h04
4,1 kg
16h35 - 18h15
93 kg
Nantes
12h09 - 21h04
5,4 kg
19h00 - 20h25
91 kg
Toulouse
14h48 - 22h08
4,4 kg
21h25 - 22h35
66 kg
Bordeaux
13h04 - 22h08
5,2 kg
20h40 - 22h00
74 kg

The train pollutes about 20 times less than the plane.
Note: a connection by plane adds roughly 20kg of CO2 (not included in this table).
Last, the tram line starting from the Nice airport does not yet reach the city centre, while the main train station (Nice ville) is connected to the line T1, and the Nice Riquier train station is just 500m from the conference location.
Accommodation and hotels
The city's webpage is in French but very convenient and offers a vast choice ; visit: https://hotelnice.fr (right click to open the link) Note: you should choose quartier "Riquier" (third menu on top) to be close to the conference location.

Otherwise, here are a few hotels you could contact directly. It is

strongly recommended

that you book your hotel room as soon as possible.
Hotel Novotel Nice Centre Acropolis (90 €), 8 esplanade Parvis de l'Europe, 06200 Nice - Tel : 04 93 13 30 93.
Hotel Campanile (85 €), 58 bd Risso, 06000 Nice - Tel: 04 93 26 20 60
Hipark (120 €/studio), 22 bd du Général Louis Delfino, 06300 Nice - Tel : 04 92 00 92 10
Hotel Kyriad Nice Port (74 €), 8 rue Emmanuel Philibert, 06300 Nice - Tel : 04 93 55 80 00
Citea (75 €), 42 bd Risso, 06300 Nice - Tel : 04 92 27 82 00
Appart' City (89 €), 18 route de Turin, 06000 Nice - Tel : 04 92 26 71 60
Contact
For any questions or problems, do not hesitate to contact the LOC at: loc_sf2a2019 at oca.eu